Block paving – A simple guide to selecting the right block paving for you – Part 2.
Following on from last weeks guide to selecting the right block paving for your project, this week, as promised, we will be exploring in more detail, some of the UK's most popular block paving products.
We shall start with the UK's most popular block paving product – Driveline 50 from Marshalls, a global leader in landscaping products.
Driveline 50 block paving
Manufactured in England, Scotland and Wales and available in a choice of seven popular colours including, Brindle, Red, Charcoal, Buff, Burnt Ochre, Bracken and Pewter Multi, this incredibly popular block paving is made to last, far exceeding the requirements of the British version of the European Standards Specification.
Each block is deep and rich in colour and fade resistant, which means your paving project will look great for longer.
Matching Kerbs and Edgings
Kerbs and edgings are important details that will enhance the look of any project. The Driveline 50 range can be accompanied by a vast array of kerb and edging options. See some examples below.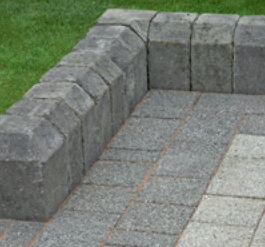 Large tegula kerbs
Lareg tegula kerbs are a versatile product which can be used in a number of ways to enhance your project.
Extremely versatile
Can be used to restrain the edges of the block paving
Can be used to create steps and features
Can be laid in a variety of orientations
Large tegula kerbs are available in a variety of colours including: Traditional, Pennant Grey and Harvest.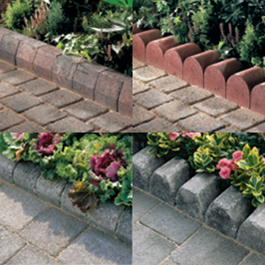 The 4 in 1 kerb
The 4 in 1 kerb can be laid in a way that suits your personal requirements so as to create the look you want. There a re two variants of this particular kerb:
Driveline 4 in 1 (sharp edges for a clean / modern design)
Available in red, brindle or charcoal.
Drivesett 4 in 1 (tumbled edges for a more rustic look)
Only available in pennant grey.
In part three of this guide to choosing block paving we will be exploring some of the more unusual block paving products.