Resin bound surfacing is an increasingly popular surfacing product. Offering a truly stunning, highly decorative finish, resin bound surfacing combines practicality with natural beauty which can enhance literally any landscape.
Available in a wide variety of colours and indeed textures, resin bound surfacing can be used to transform driveways, patios, paths and walkways, parks, roadways, courtyards, school playgrounds, car parks, the list goes on.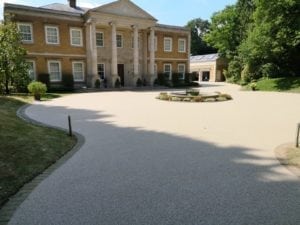 Resin bound surfacing is low maintenance, has no joints and is incredibly durable
Resin bound surfacing is perfect for new build projects that require a highly sleek and modern finish and can even be laid over existing concrete or tarmac surfacing if you are looking to renovate a tired looking space.
Some key benefits of this increasingly desirable surfacing product:
Quick and easy to install – Can take foot or car traffic usually within 24 hours
Offers a seamless finish – Resin bound surfacing can be laid without offering a smooth finish
Extremely low maintenance – Easily clean through sweeping and or pressure washing
Weed and moss resistant – Unlike other surfacing products resin bound surfacing is highly resistant to invading weeds and moss
Highly decorative – Natural colours available in a wide variety of aggregates
Click here to see a range of the most popular resin bound surfacing colours >>
If you are considering resin bound surfacing for your driveway, patio or paving project please don't hesitate to call us on 01932 590444 for free help and advice.